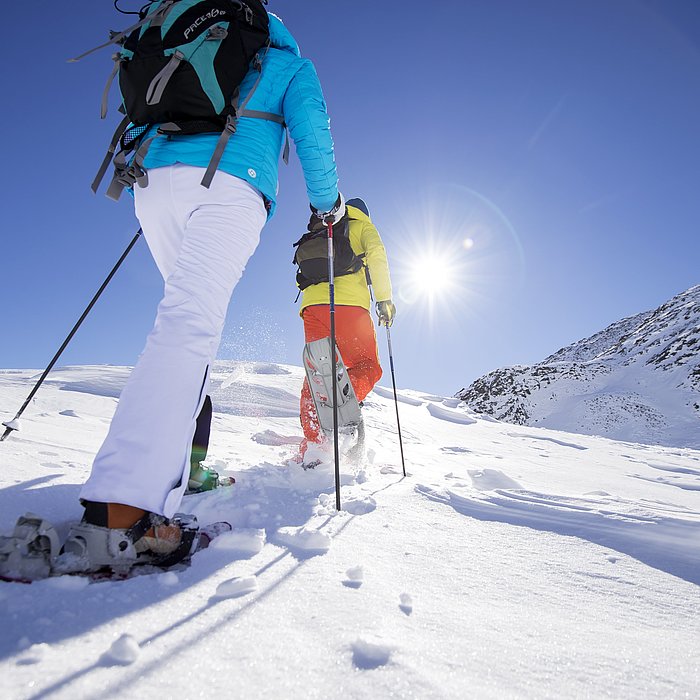 SILENT WORLD OF SNOW
Snowshoeing and winter hiking around Maso Corto
Falling flakes and dreamy snowy landscapes - what could be more beautiful? Winter camping in the Alps allows you to experience the magic of snow up close. Wrapped up warm and equipped with snowshoes or sturdy shoes, you can set off from the caravan park into the nature. Countless paths lead off to the winter idyll; have you already decided which one to follow? You can find the most popular routes on our winter hiking map.
HIKING THIS CLOSE TO HEAVEN
Fir branches wearing white bonnets, soft winter light that makes the paths sparkle and mighty peaks resting in a mantle of snow. A winter or snowshoe hike in Val Senales is rich in impressions for the eye and soul. Even during your break in a hut you can look out over the alpine winter wonderland.<br/> Don't have the right equipment? You can rent snowshoes and hiking poles at the Maso Corto ski rental not far from the caravan park.<br/> Please always observe to the current snow conditions and the avalanche report. Then nothing will stand in the way of your hiking adventure!